Like to be a part of our up coming events at Aussie Saddlery? Follow us on Facebook for all information.
Aussie Saddlery VIP Night 2018 with BARE Equestrian
Aussie Saddlery 2018 VIP event wrap up. Wow what a day!!! We are still trying to catch up from the weekend but thought we'd share a few more photos from the event. We had an overwhelming response from our horse community and at one stage, had the most people we have ever had in the shop at one time!! It was a hugely successful day with lots of lovely comments from our customers, who make doing these special events so worthwhile.
Firstly, thank you to the ladies at BARE Equestrian the major sponsors of this event. We had LOTS of tights going through our register that day and without them giving up their time and generous donations, it would not be the same so thank you Hollie McLeod and Lisa.
Thanks you to our models and workers for the evening and special thanks Rachel and Dacry, you all were amazing.
We are also very thankful to Neely J Hopkins and Jeff essential wrap at Ranvet , Patrick from Vetsense and Ciska and Annie from Horze Australasia for coming down and taking the time to talk to our customers and providing the samples for our gift bags. These are all products we sell everyday, but these guys provide the background and know all behind them.
Many thanks also to Mitavite Central Pet Outback Supply CO AustraliaNational Equestrian Wholesalers Thomas Cook Boot & Clothing Co. Horse Show Colour - Professional Horse & Pony no ammonia colour Stance Equitec Australia Wattlelane Stables Saddlery Trading Company Zilco - Equestrian Products who were also a huge part of our event and products in store.
Thank you everyone again for coming, we need a year to recover (just about) !!'Make sure you keep an eye out for the lucky door prizes for the people who came on the night still to be drawn this week.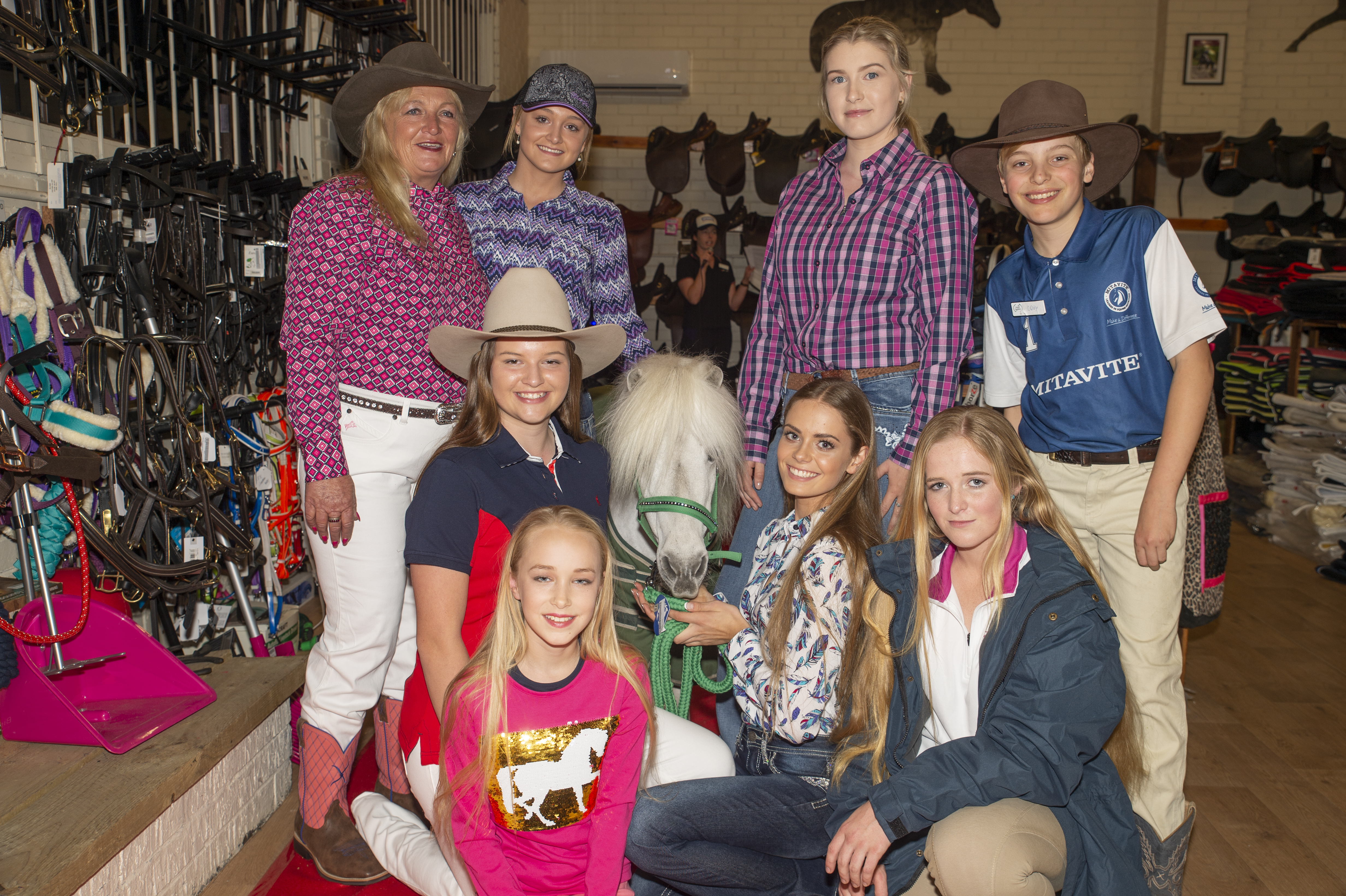 Aussie Saddlery VIP Night with Performa Ride 2017
Check out the latest edition of Hunter and Hawkesbury Equestrian News featuring the 2017 Aussie Saddlery VIP Event with Performa Ride page 12. Magazine available in store now and it's FREE!!!!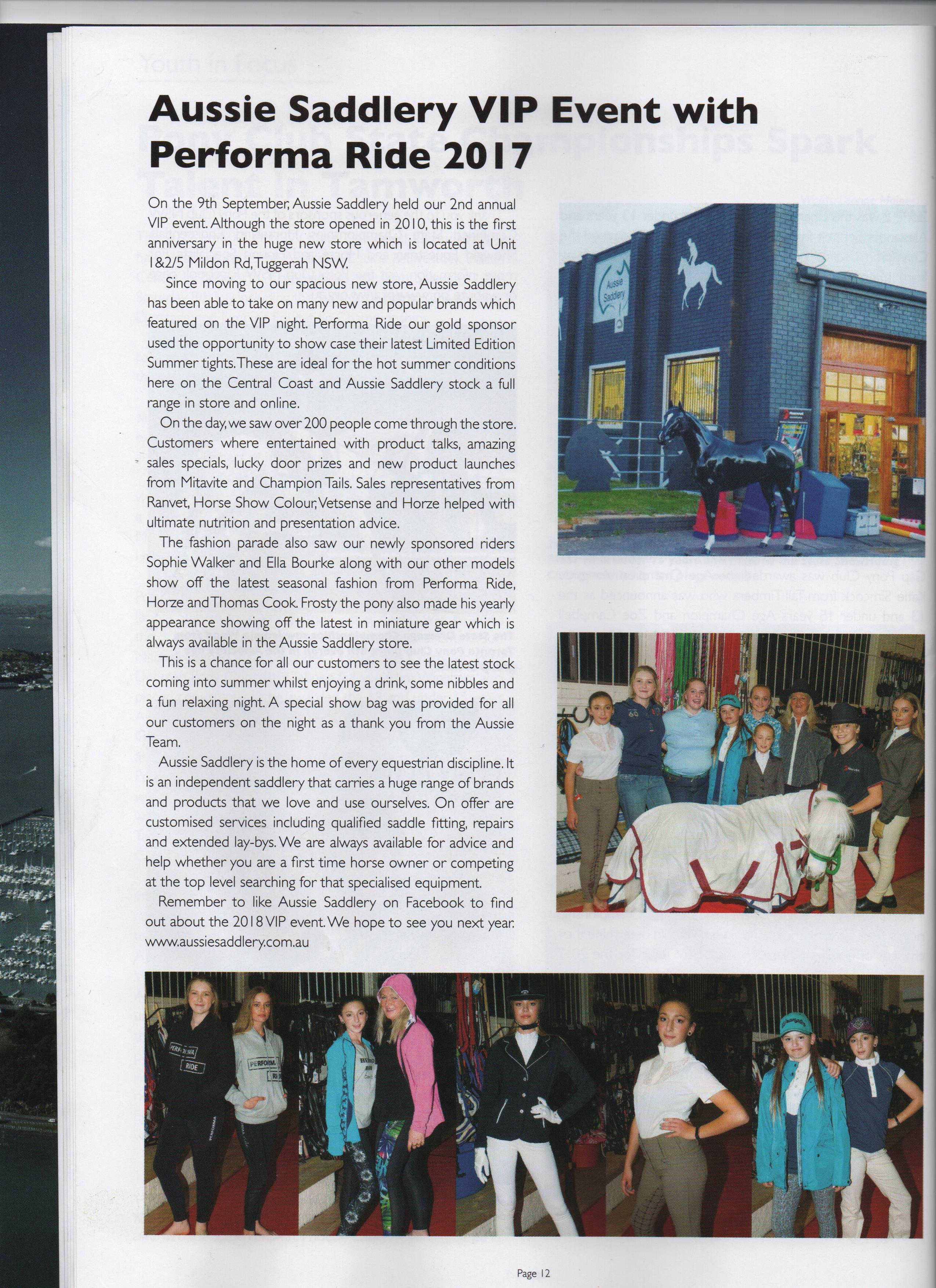 Thank you to everyone who came through for our VIP night. There was so much going on that we literally went through from open to close without stopping!!! We saw the latest range from
Performa Ride
including their Summer limited Edition which were modelled by our sponsored riders Sophie Walker and Ella Bourke along with the other model ladies Ellie, Lana,
Sara, Annie, Skye and Kylie
. Not to forget Cody McPherson an
d
Frosty the Pony. We can not thank them and AnnMaree from Performa Ride for supporting us on the night.
Thank you so much for each and every person who came in to see us as well as all the suppliers that supported us on the night Neely from
Ranvet
Patrick from
Vetsense
Felice from
Horse Show Colour - Professional Horse & Pony no ammonia colour
Ciska from
Horze Australasia
Yvette from
Mitavite
along with all the other suppliers who donated
Thomas Cook Boot & Clothing Co.
Champion Tails
Zilco - Equestrian Products
STC
N.E.W
Cakes by Diane
Danielle Wright Make up
We have already had many people ask about next year but for now, we are still recovering from Saturday!!! Enjoy the photos. Thank you
Gary White
from Gary White Photography
Aussie Saddlery VIP Night with Performa Ride 2016