PASSIER Hubertus Schmidt Dressage Saddle
Black 17.5" only
Designed to meet the highest standards as a result of a close cooperation with the successful dressage rider and Team World Champion Hubertus Schmidt.
Made using the PS saddle tree and with its soft deep seat, preformed knee inserts and comfortable thigh supports, it makes it easy to keep legs in the proper position.Freedom panels are included which are particularly comfortable for the horse. Other sizes/colours available to order
Most Passier products are made to order and can take weeks/months to arrive in store. Please check with us for stock availability before you order if your item is required ASAP.
About Passier Saddles
Quality is Everything.
For anyone who places value on top quality, Passier products are a wise choice. Because all Passier saddles, bridles, saddle girths, stirrup leathers, etc. are handmade. They have been since 1867 - from the highest quality materials from selected suppliers. And that will surely remain so in the future.
Leather is a raw material that comes from a natural source – which is why meticulous quality control is so important. The ideal cut is selected from each hide for Passier saddles. This means that natural imperfections such as insect bites or scars are rarely found in hides on Passier products. As exclusively purely vegetable tanned leather without an artificial finish is used at Passier, Passier products still look natural and extremely high-quality even many years later.

Black, Havana, Teak, and London Colour are the leather colors used by Passier for saddles, bridles and accessories. Naturally maximum color fastness and color consistency are principal priorities as far as all leather colors are concerned. Given the right care, the colors therefore remain consistent and, if anything, become even more attractive in the course of daily use. The wide selection means the perfect color is available for every rider and every horse. A large selection based on tradition because each color has its own history and its currently-preferred field of use.
PS Saddle Tree
The heart of a saddle is the saddle tree. The PS saddle tree was developed 50 years ago by Passier, and has been continuously produced since then by our own saddle masters in Langenhagen. More than 1,200 steps are necessary to produce it. The main materials are wood and leather. In order to achieve the high degree of flexibility, several bamboo strips are worked into the saddle tree. The models with the PS saddle tree are available in up to seven different sizes from 16" to 19". As every saddle is made-to-measure, it is possible for Passier to produce a saddle seat in one size in combination with saddle flaps in another size.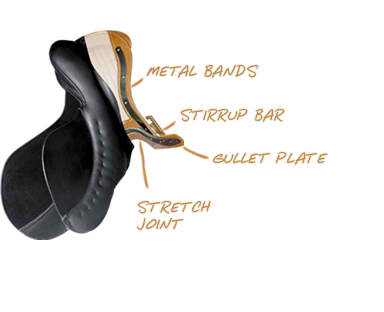 Saddle Panels with Foam Inserts
Passier product development strives to achieve maximum horse-friendliness. This is why all saddle models are subjected to consistent model upgrading. It is therefore a logical consequence that a decision in favour of a Passier saddle is also a decision in favour of an optimum degree of comfort for your horse. The saddle panels with foam inserts developed by Passier are a particularly good example. Because the new foam inserts ensure an extremely soft, smooth contact area with the horse's back. Furthermore they also mean an optimum distribution of the rider's weight. On account of the very good experience with the saddle panels, all newly made Passier saddles are now produced with the new saddle panels with foam inserts.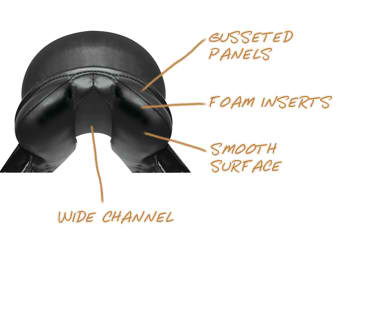 Buy with comfort from a real saddlery store
Aussie Saddlery is a real saddlery store, with real people who are real horse riders. We are not some backyard operation, Aussie Saddlery have a large, friendly saddlery store located in the central coast of NSW (north of Sydney). The online store complements our traditional saddlery store.
If you have any questions, or queries or would like some information of advice, feel free to give us a call or send us an email. At Aussie Saddlery we like good old fashioned service, help and advice. We know that horse people like to talk to a real person when it comes to buying saddlery. Our staff know saddlery and know horse and would be happy to help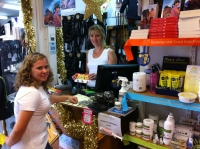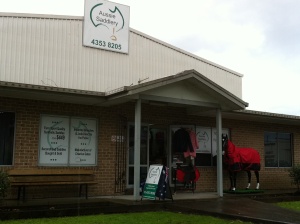 ---